I am not regular on #Twitter. But, sometimes I do, and today I tried to post a video in twitter. Failed ( !!? )- with an error message "Your Media File Could Not Be Processed" without further explanation what I am doing wrong ! Then I tried from my mobile as well, but again - #Fail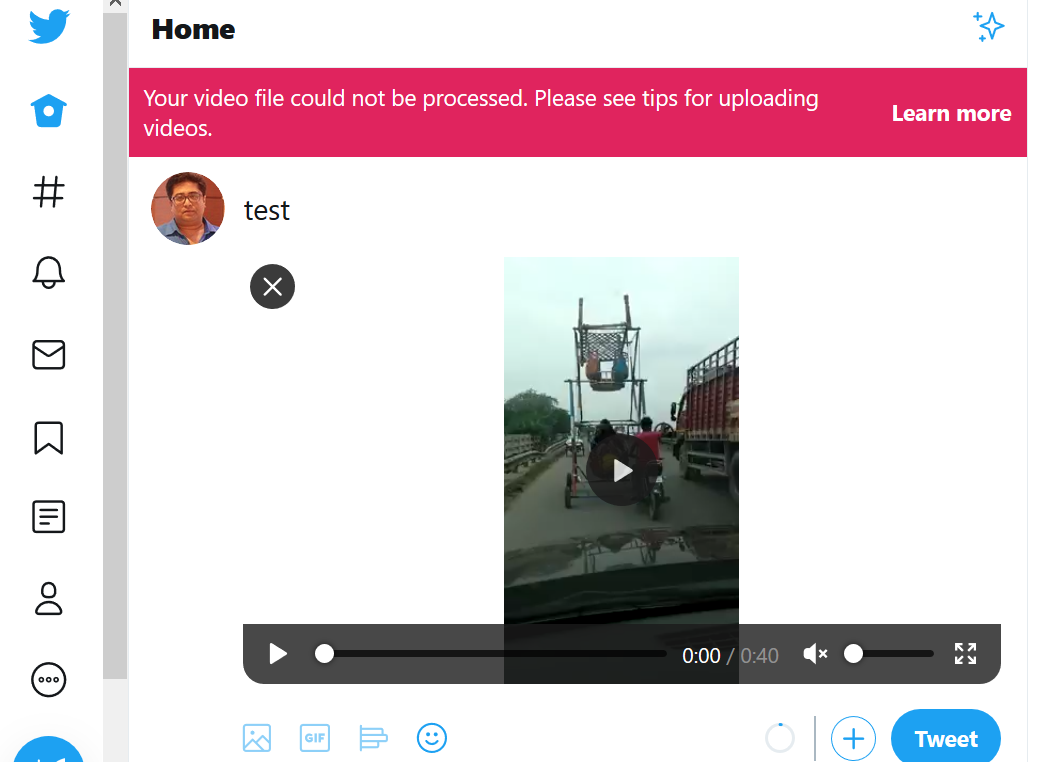 So, I tried to find out what I am doing wrong and found twitter help page for uploading video. Amazing thing
What are the limitations on video resolutions and aspect ratios that can be uploaded on the web?
Minimum resolution: 32 x 32
Maximum resolution: 1920 x 1200 (and 1200 x 1900)
Aspect ratios: 1:2.39 - 2.39:1 range (inclusive)
Maximum frame rate: 40 fps
Maximum bitrate: 25 Mbps
Now, when a basic user shooting video, who control all those parameters before shooting a regular video ? #Fail
But it is - what it is ! So, tried to find out an easy #hack to convert any video fast and free for making ready for twitter. As usual - Open Source always be with you. Used FFMPEG on windows, with a single parameter to solve this irritating problem.
Open the cmd prompt. Go to the directory and type following
C:\> ffmpeg -i SOURCE.mp4 DESTINATION.mp4
After some automated ffmpeg magic in background - the output video you can upload to #Twitter.
Hope it helps !