Yes, recently bought a Xiaomi 12X after waiting for all in one phone for longer period. Slight background, I am very picky about choosing a perfect hardware when choosing a mobile phone and obviously I am not super rich who can afford anything from the market. My common criteria for choosing a perfect android phones are following:
A good processor ( Snapdragon 7xx or 8xx / Exynos / Kirin ) with lesser heating issues.
Atleast 6 GB of RAM.
Good heat sync.
Good camera ( why not !! ) with gcam support ( Sony chipset ).
Atleast 4500 mAh battery.
Weight with battery should be lesser than 175gm.
AMOLED screen ( 60 Hz is enough )
Screen size max. 6.5" - not more than that.
NFC
APTX HD or better LDAC support
Not very expensive
But, to be honest - in present flagship mobile market, getting everything I want in single package. Samsung I personally don't prefer much. My eyes was on Sony Xperia 1 iv even if I am owning a Sony Xperia 5 ii . But, Sony Xperia 1 iv costs a Loooot , just too much for a device which will be old within 1-1.5 years in present market scenario.
Then I saw Xiaomi 12 series - what a perfect device. As I don't like Snapdragon 8 gen 1 chipset for high temparature and battery issue - I almost skipped it, but then I saw Xiaomi 12x ! What a beauty with a pefect brain ( snapdragon 870 ) and everything I want - are there in single package. But, it was released only in China, so started waiting for it to be avilable in global market.  It was a long wait, then after long wait, Xiaomi 12 series launched in India. But :-( not 12x . Xiaomi 12 Pro 5G is a good phone - no question about it. But, not what I was waiting for !! So, only way to get it from China with Global ROM and I did that. As they deliver it to Europe real fast, received it within few days. I was using 2 SIM cards - 1 from Sweden Lycamobile and another Jio 4G sim from India. As I was not using JIO 4G connection for calling from Sweden, it was ok just to receive SMS/OTPs . But then - I came back to India for vacation..... and - Problem Started !
Jio 4G was showing connection in 4G mode, but no incoming or outgoing calls are possible. I checked with signal spy app, found it is using Band 3, 5 and 40 - which are required for JIO Sim to work. Then, VOLTE - obviously as snapdragon 870 support volte !! Then what is the issue ? If I am trying to call that mobile, getting out of network message. Outgoing calls are getting disconnected immidiately. So, I registered ticket with Jio Support. To be honest, even if they are friendly and always avaialble - they suck technically and after raising 3 tickets, no solution offered except updating the phone software and all. ( BTW - as it is a VOLTE phone, Jiocall app also will not work ) .
So, thought of taking own way to solve it. 1st easier method for me to modify the settings for Qualcom chipset to enable all the bands and feature using QPST. But, that method is very precise and time consuming as I needed to wait 168 hours to unlock the bootloader ! You can find details about modifying settings for Qualcomm chipset in many places to enable many features using QPST. So, was looking for other ways.
Then - the engineering menu which helped. So, no more details - just steps to solve the issue with VOLTE calls on Xiaomi mobiles if it is not working.
To enable VOLTE - type *#*#86583#*#* . It will show a message like VOLTE check Disabled. And you are done.
1st - you need to enable VOLTE for all sim cards.
It will enable VOLTE for both SIM without checking with provider. You can enable it under SIM settings and enable it.  After this, outgoing calls will be activated, but not incoming :-(
So - now - next part. Testing Menu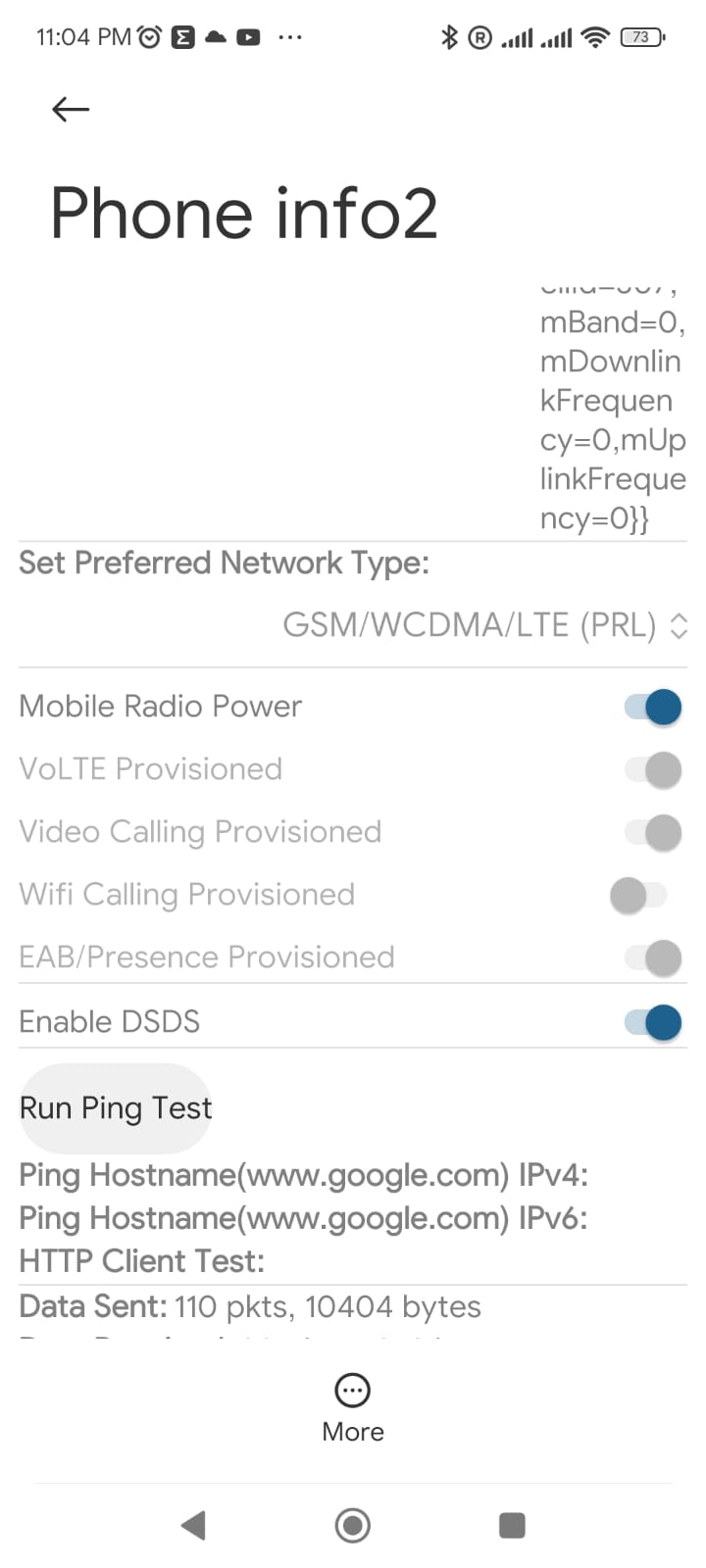 Go back to dialer, type *#*#4636#*#* . Choose specific SIM which you want to troubleshoot. Disable Mobile Radio Power. Then click on "Set Preffered Network Type", Choose NR/LTE/TDCDMA/GSM. And then enable Mobile Radio Power.
Rebooting your mobile once may help. Now try to receive call and outgoing calls. In my case it worked perfectly.